TRENTON – A small number of neo-Nazis rallied on the steps of the Statehouse early this afternoon while a massive police presence kept a group of counter-protesters behind a barricade a short distance down the street.

Members of the National Socialist Movement (NSM) numbered just over 50 while several hundred counter-protesters representing a handful of organizations gathered in different locations throughout downtown Trenton.

Outnumbering both NSM members and counter-protesters, however, were police officers, who were stationed throughout downtown Trenton, diverting both pedestrian and vehicular traffic around the site of the protest.
More
The NSM circus rolled into New Jersey and was met with more (organized) anti-racist resistance than they had anticipated. [I can't see how they hadn't the foresight to expect this sort of thing. Then again, expecting the 'leadership' of a 'movement' of that kind to adequately plan is as futile as expecting them to look and act professional—not like a bunch of low-grade SS/SA reenactors.]
One always wonders what these individuals hope to accomplish with these mindless spectacles.
Personally, I can't make up my mind as to who I find to be more amusing,; the NSM or the more eccentric elements of the teabagger movement.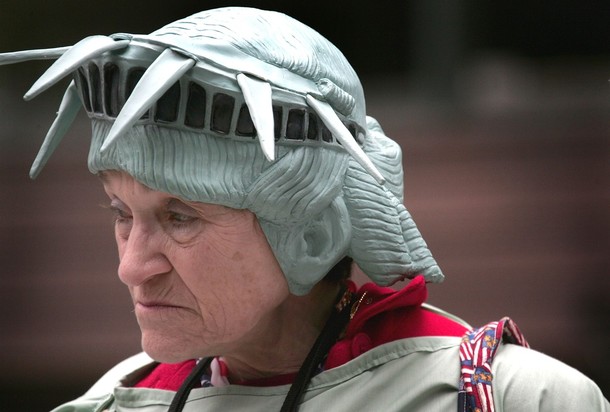 Last edited by Admin on Sun Apr 17, 2011 1:04 pm; edited 3 times in total
Hmm, that's a difficult one. But I must say the 'Teabaggers' are more colourful.


Isakenaz

___________________





Tendency

: Socialist-Nationalist

---

Posts

: 646


Reputation

: 266


Join date

: 2011-04-02


Age

: 62


Location

: Yorkshire, England



I actually wished that there were some pictures of the countering 'antifa' crowds posted along here. As they say, a picture says a thousand words, and pictures of the 'antifa' crowds will often tell many of their secrets.
The 'antifa' brought out hundreds of counter-demonstrators altogether and held their actions at different locations. A clue here in the story is the different locations. One of the biggest dividing lines between 'antiracist'/ 'antifa' protester groups is their position on violence. Usually, the way this works out in practice is there will be a liberal-Left reformist pacifistic more 'mainstream' coalition (these folks are basically bourgeois Dems and social Dems and lefty-churchgoers and 'civil rights activists', older, better off socioeconomically, and overwhelmingly of European or Jewish descent, though there is usually a few better-off non-White token figures present in their coalition for the sake of 'diversity', and the non-whites present here are usually brought out by the 'civil rights' groups), and then there will often be a 'militant'/'direct action' segment made up of one or more groups (these groups are basically communist or anarchist-led, tend to be younger, typically non-voters, usually "lower middle class" or are worse-off/precarians socioeconomically, tend to be more thoroughly 'diverse' ethnically then the 'mainstreamers', and more often then with the 'mainstreamers' there are actually a few non-White leaders in this segment ).

These two major segments do NOT usually have a very cozy smooth relationship with one another, and they seek out different tactical outcomes from their counter-protest activities.

Which segment do you suppose that most of the Blacks will be brought under the auspices of? If you guessed the 'militant' side, you'd most often be wrong. There is not that much of a significant Black 'militant' radical protest movement currently in the United States, and Blacks will only tend to come out with the 'far Left' if at least one of the key commie/anarchist leaders and main organizers is also Black, and if the protest event is happening inside a "chocolate city" (Blacks are the majority of the local urban population, and thus might be more emboldened there). Beyond this, when Blacks are bussed into to protest in significant numbers, it will mostly be done by those Black mainstream 'civil rights' groups/leaders. Non-Whites brought out in numbers under the militant commie/anarchist wing in the USA will more usually be Mestizos or mulattos, rather than Blacks. The ability of the militant/direct action segment to mobilize Mestizos will often depend upon whether they have at least one key Mestizo commie/anarchist leader in this protest and some Spanish-speaking cadres with 'roots' in the local Mestizo communities who are also competent organizers. BTW, the Mestizos brought under the 'far left' militant types will usually be more emboldened 'legals'...'illegals' will only tend to show at a protest if there are quite large numbers of Mestizos and others mobilized, and almost always that would mean that they are mobilized by the mainstream Left-liberal segment and it's mainstream 'Hispanic' leaderships. That is to say, if the local ARA/militant 'antifa' protester group rank-and-file is overwhelmingly of Euro-ethnic or Jewish descent and their leadership conforms to or proportionally exceeds this 'lack of diversity', then said group will have a very difficult time bringing non-Whites out with them, no matter how patronizing their attitude toward non-Whites might be.

This is important for us to know, so that we can see what has actually occurred (even if just via videos and photos of the 'antifa' side) and what were the real tactical dynamics between the two major segments of 'antis'.

I suspect that here at this 'NSM' event there was a larger Left-liberal 'mainstream' anti coalition and a smaller more 'militant'-posturing anti group or coalition of fringe Left anti groups, deliberately demonstrating in different locations. The Left-liberal mainstreamers likely brought out the bulk of those 'hundreds of protestors' mentioned in the mainstream media, while the fringe Left group(s) brought out numbers comparable to or at least less then double to that brought out by the NSM. It would be interesting to see if we can confirm this is what actually happened.

One last thing of importance, about the NSM side. If videos and photos of the NSM side show that most or damn near all were wearing uniforms, then it is clear that they did very little effective local community outreach (might not have even done any mobilizing inside the local community at all beforehand) and their participants are almost all currently known quantities from the 'movement'. If you see a significant number of non-uniformed or visually inconspicuous supporters at rallies held by uniformed groups like the NSM, then they may have done some local community mobilizing beforehand and some of these non-uniformed/visually inconspicuous folks are not 'movement' regulars. In other words, if you really want to see if the NSM or a similar uniformed 'movement' group is actually becoming more influential in the real world in some local area, look for numbers of NON-UNIFORMED "average joes" supportively attending, and don't be distracted instead by the 'movement' known quantity costume wearers.












Coach

_________________________





Tendency

: socialist-nationalist/revolutionary Trotskyist

---

Posts

: 259


Reputation

: 133


Join date

: 2011-04-02


Location

: US Midwest



"National Socialist" my ass. Nothing more than just racist conservatives. Those marches do nothing but recruit people to the antis. You win people over by providing facts and evidence, not by flying swastikas around the city.

GrahamTheRed88

___________________





Posts

: 18


Reputation

: 6


Join date

: 2011-04-02



Over on Revleft the anti-fascists are really enjoying this one. They are using the following 'report'. From Saturday 16th April.
It's on. It's VERY on. The National Socialist Movement is having their conference in New Jersey, and it just became a bloody scene. This is a short report, but sources indicate that Antifa just had a serious altercation with the conference attendees. There are injuries (on the Nazi side) and arrests (on the Antifa side), and this is before tomorrow''s rally takes place in Trenton! Things are getting very dicey right now, and we will keep you posted as things go along. And damn, they will go along!
One People's Project

BORDENTOWN, NJ--New Jersey State Police is maintaing security around the Clarion Inn on Rt. 206, where the National Socialist Movement is reportedly holding their conference after a major brawl outside between antifa and conference attendees that sent six of those attendees to the hospital and 2 antifa arrested.

According to sources, approximately thirty antifa clashed with about sixty attendees, sparking the melee. Information about those injured or arrested have not been made public as of yet. The last time the NSM was in the area was for a rally in Valley Forge, PA where NSM associates and their vehicles were confronted by antifa as they attempted to leave the Revolutionary War battlefield.

The fight preceedes the rally that is to take place tomorrow at the New Jersey Statehouse in Trenton New Jersey at 1 PM, State Police have been preparing for anything that might take place, and as of tonight monitoring the Clarion Inn in case anything else occurrs.
By all accounts SF is also full of the news, possibly from a different point of view.


Isakenaz

___________________





Tendency

: Socialist-Nationalist

---

Posts

: 646


Reputation

: 266


Join date

: 2011-04-02


Age

: 62


Location

: Yorkshire, England



Isakenaz wrote:Over on Revleft the anti-fascists are really enjoying this one. They are using the following 'report'. From Saturday 16th April.

By all accounts SF is also full of the news, possibly from a different point of view.
They are rejoicing and discussing weaponry as usual.

such pathetic displays are exactly what we should NOT endorse, since it reinforces a negative image we do not want to be associated with.

Leon Mcnichol

________________________





Posts

: 352


Reputation

: 287


Join date

: 2011-04-01



The guy at in the bottom photo looks a bit like Ernst Rohem, lets hope he doesn't end up like him - betrayed and shot.

Isakenaz

___________________





Tendency

: Socialist-Nationalist

---

Posts

: 646


Reputation

: 266


Join date

: 2011-04-02


Age

: 62


Location

: Yorkshire, England




---
Permissions in this forum:
You
cannot
reply to topics in this forum